clusterone
biography
Just a 26 year old pixelmonkey for a pen company
0

April 5th, 2006 + 9:04 PM
·

clusterone
Posted my new song to the April battle. Feeling pretty ok about it.
1

December 12th, 2008 + 10:12 AM
·

clusterone
Inspired by Petermoncrieff's post, here is my own 'demo reel' displaying my progression as a songwriter. I took what I thought were a good representation, as no one wants to hear samples of 50 or 60 songs. And now, allow me to ramble for a moment.
I've always been at the very least a casual fan of Conor Oberst, usually known as Bright Eyes. But the one thing I've always really loved about him is that he got started so early (14 or 15) that you can really see his progression -- to hear evidence of someone improving from
Solid Jackson
(a lo-fi mess of a song from his first album) to some of the more
mature and polished
works later on was always more of an inspiration than the music itself. It taught me something that we learn as children but need to be constantly reminded of: practice makes perfect!
Hopefully, if I keep practicing, by the time I'm 90 I'll be somewhere approaching perfect, but for now I have a long way to go
And hopefully, if someone who is just starting out can hear the difference between my first songs and my later ones, they'll see that they can get a little better too.
thanks for listening!
11

March 8th, 2008 + 7:03 PM
·

clusterone
I'm pretty happy with the way this turned out, except for my vox which aren't my best. I wrote and recorded this in one day (today, actually), except for the lyrics themselves which were left over from years ago. The person they refer to hasn't even been a part of my life in well over five years, haha. But I'm fairly pleased with how this turned out. Far from perfect, though.

once I was man
who knew what he wanted
once I knew a man
who'd never lie to you
why did you tell him to go?
to make him leave you alone
where did the flowers go this bloody spring

well I guess time has gone
woah, I wish it hadn't
but here we are
nevertheless
why did force me to drown
why did you keep me from reaching the ground
when will the time come
when I can say
this is our day
why can't this be our day

(inaudible whispering)

"I think that maybe you should look inside of yourself for answers
because there's nothing I can say or do that will make you change your mind
you can go if you want to
or if you feel like you need to
but don't expect me to be here when you get back"

why did you crush all my life
take me apart and put me aside
why oh why oh why?

my life's an open book full of words you never read
survey always says that I'd be better off alone
without you
without you.
5

February 29th, 2008 + 11:02 AM
·

clusterone
This is my newest piece of work, rough recording #1. After repeated listenings I've decided it could use some soft harmonica during the verses and maybe some hammond-sounding keys throughout.

Any other thoughts?
6

Uploading all of my partially completed songs. I have enough for an album now and even some new equipment to record with, but can't seem to get off my butt and record
help!
2

Uploading the rest of my partially done songs to try and help spur me to re-recording them. Have at it.

The distance between your mailbox
and your front door
seems just a little longer today
than it ever has before

I wonder just how tired I'll be
when I reach that last flagstone
to see you looking down at me
but I can barely tell your home

Spend a year on Ashland and you'll
See what's on my mind
Feels just like it should
Feels just like it would
if you spent a year back home.
Alias:
clusterone
Status: Offline
Threads:
20
Posts:
161
Songs:
18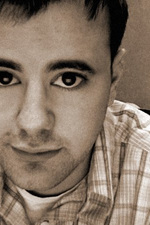 Joined: May 10th, 2003
Last login: January 05th, 2021
My Messengers
| | |
| --- | --- |
| AIM: | ikegstand |
| ICQ: | n/a |
| Skype: | n/a |